Safeguarding Children and Youth

in Sport for Development Organizations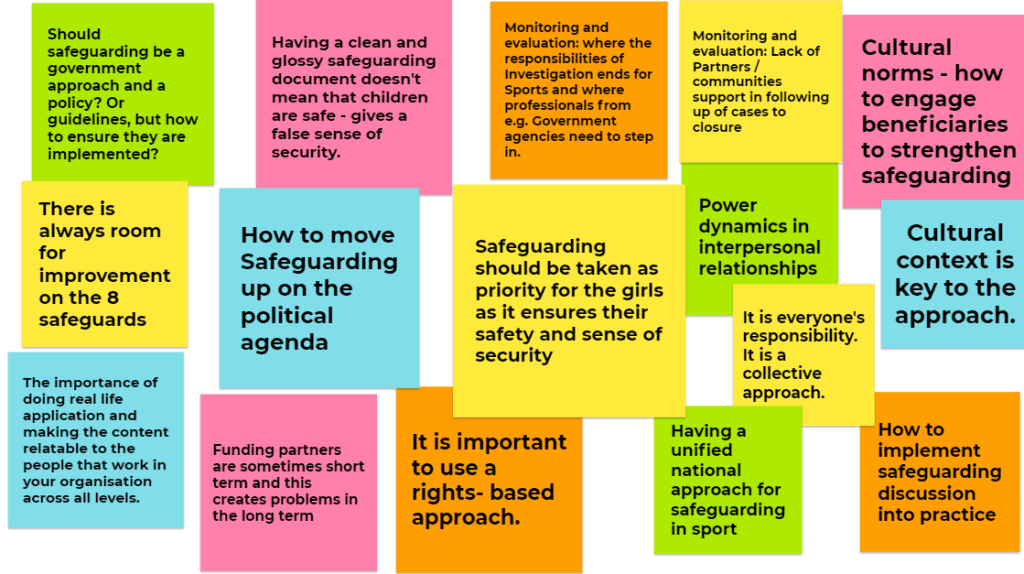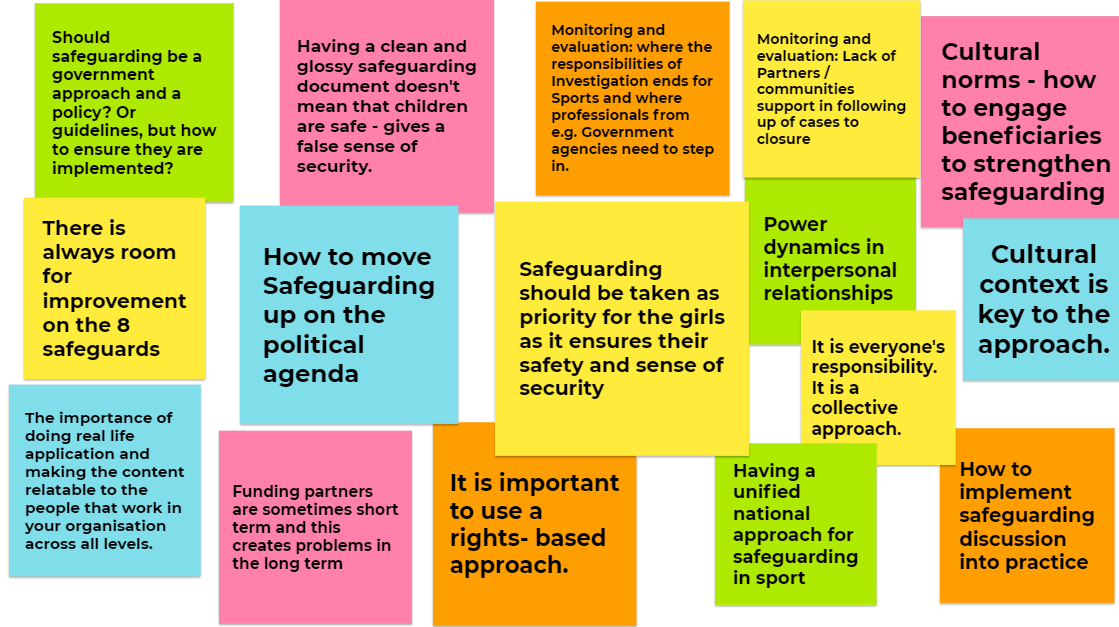 Eeva Mäkinen, Communications Manager, Girls in the Lead
22 April, 2021
Girls in the Lead finished its spring webinar series on April 8th with a webinar on Safeguarding Children and Youth in Sport for Development Organizations. The event gathered over 130 international practitioners to discuss solutions and challenges for safeguarding in sport for development. Recording of the webinar is available to watch here.
Children and youth have the right to enjoy sport in a safe environment. Child safeguarding provides the means for sports for development organizations to promote the well-being of children and keep them safe from harm.
The aim of the webinar was to learn about safeguarding approaches from sport for development practitioners, how to implement those practices in different socio-economic and cultural contexts, and gain more understanding on safeguarding gender, sexual diversity and youth and digital safeguarding. International guest speakers included Mariam Ibrahim, Sport for Development in Africa Team at GIZ, Marie-laure Lemineur, Child Safeguarding Manager at FIFA, Dr. Lombe Mwambwa, Executive Director at NOWSPAR, Kwanieze John, Founder of IBIS Sports Hub, and Nicole Matuska, US Director at Women Win.
The webinar facilitators and guest speakers hosted interactive sessions on girls-centered safeguarding, digital safeguarding and the 8 International Safeguards for Children in Sport. The safeguards have been drafted by the International Safeguarding Children in Sport Initiative. They lay the foundations for a holistic approach to ensure children's safety and protection in all sports contexts internationally. You can take the safeguarding pledge here.
The discussions emphasized the need to narrow the gap between safeguarding policy and practice and strengthen evaluation and monitoring through collaborative action. Safeguarding should be prioritized as a fundamental part of a culture where everyone holds themselves and each other accountable to ensure safety within sport communities. Creating space to hear the experiences of children, youth, and girls on safety in sports was considered important to implement safeguards inclusively. A major part of the process is responding to safeguarding concerns effectively, not only through preventative measures, but making sure situations are addressed and investigated thoroughly.
Safeguarding is a set of complex processes affected by different social and cultural spaces, which creates challenges to standardize global practices. It was agreed that we are still in the process of learning and building the safeguards within sport for development. A deeper dive into safeguarding was requested by participants, especially on digital safeguarding, effective follow-up on safeguarding concerns and child-based safeguarding.
Stay tuned for another event on safeguarding with Girls in the Lead – in the meantime, learn more about our safeguarding resources on the Girls in the Lead platform.